Need a doctor now? We're here!
At Compass Urgent Care, you never need an appointment, and our experienced physicians are here for you seven days a week. We offer personalized service available for every member of the family.
Office Hours
Monday – Friday: 8 a.m. to 6:30 p.m.
Saturday and Sunday: 8 a.m. to 4:00 p.m.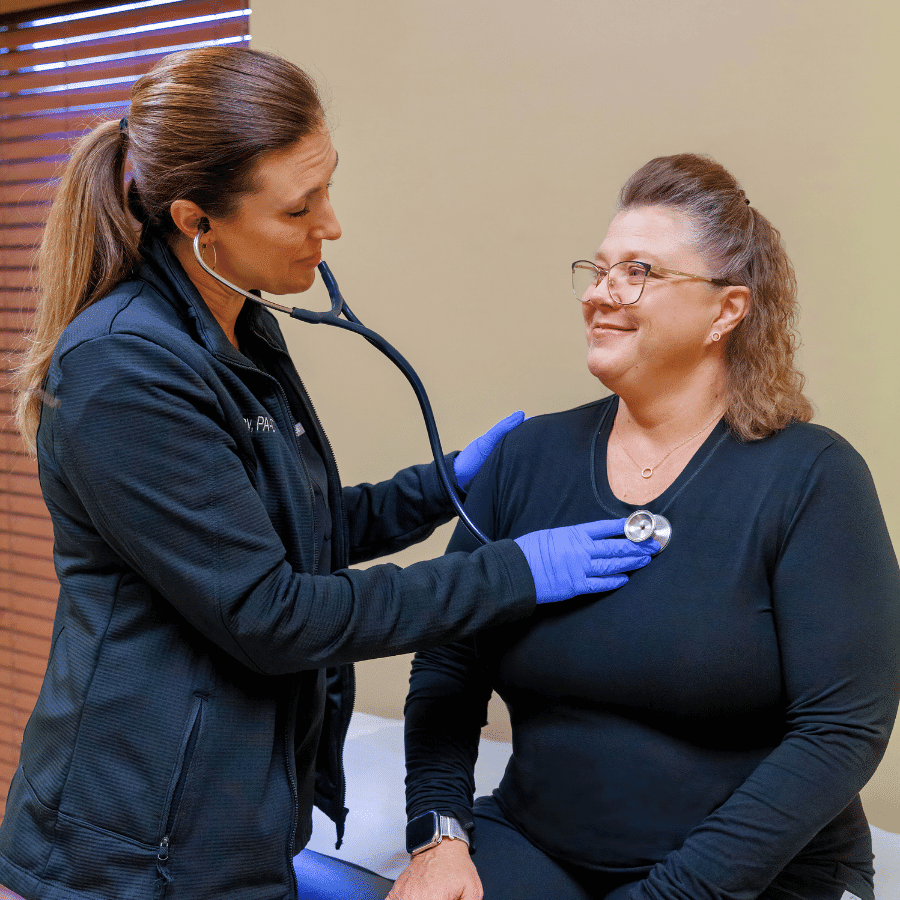 Caring
From the moment you walk in the door, our team will listen to your concerns and assess your medical needs in a private, respectful manner. Our medical staff strives to provide quick, courteous service for any non-life threatening condition, making it easy for you to get back to enjoying life as soon as possible!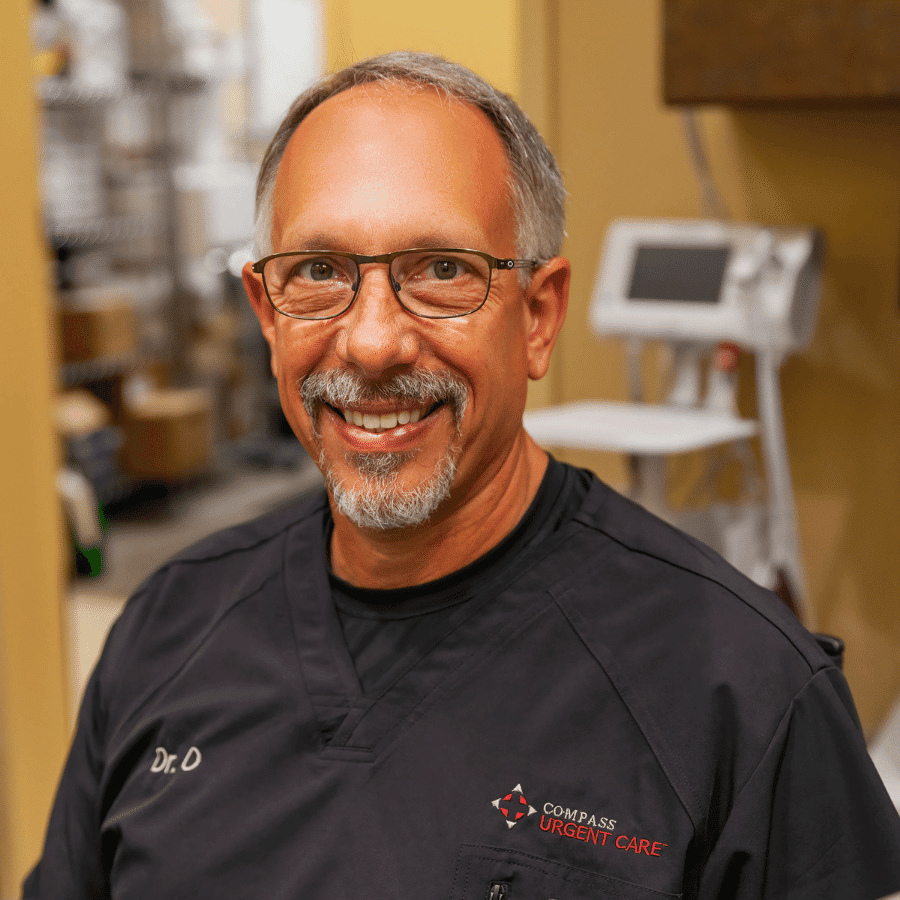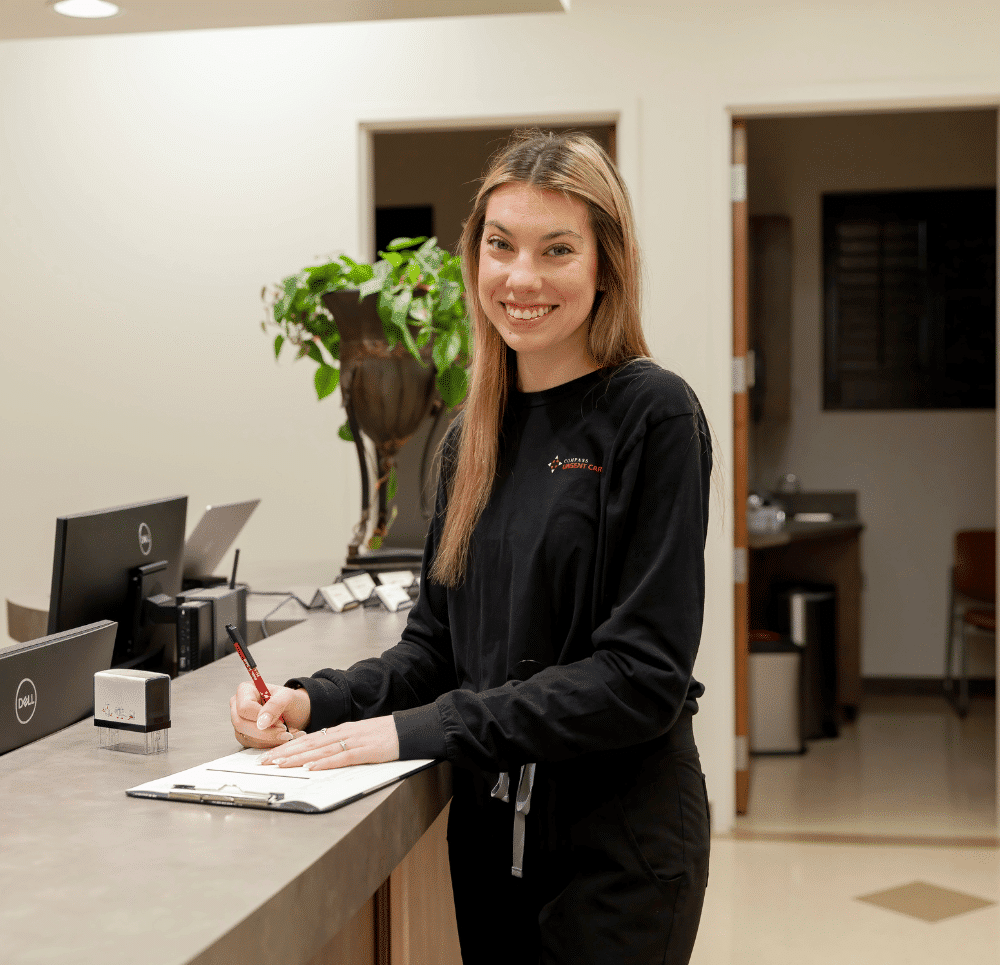 Certified
Rest assured that you and your family will receive the best care possible at our walk-in clinic. Our designation as a Certified Urgent Care Center by the Urgent Care Association of America means that we've achieved excellence in the following areas:
Excellence in:
Scope of Care
Patient Care Processes
Patient Privacy, Rights, and Responsibilities
Physical Environment
Quality Improvement
Health Record Management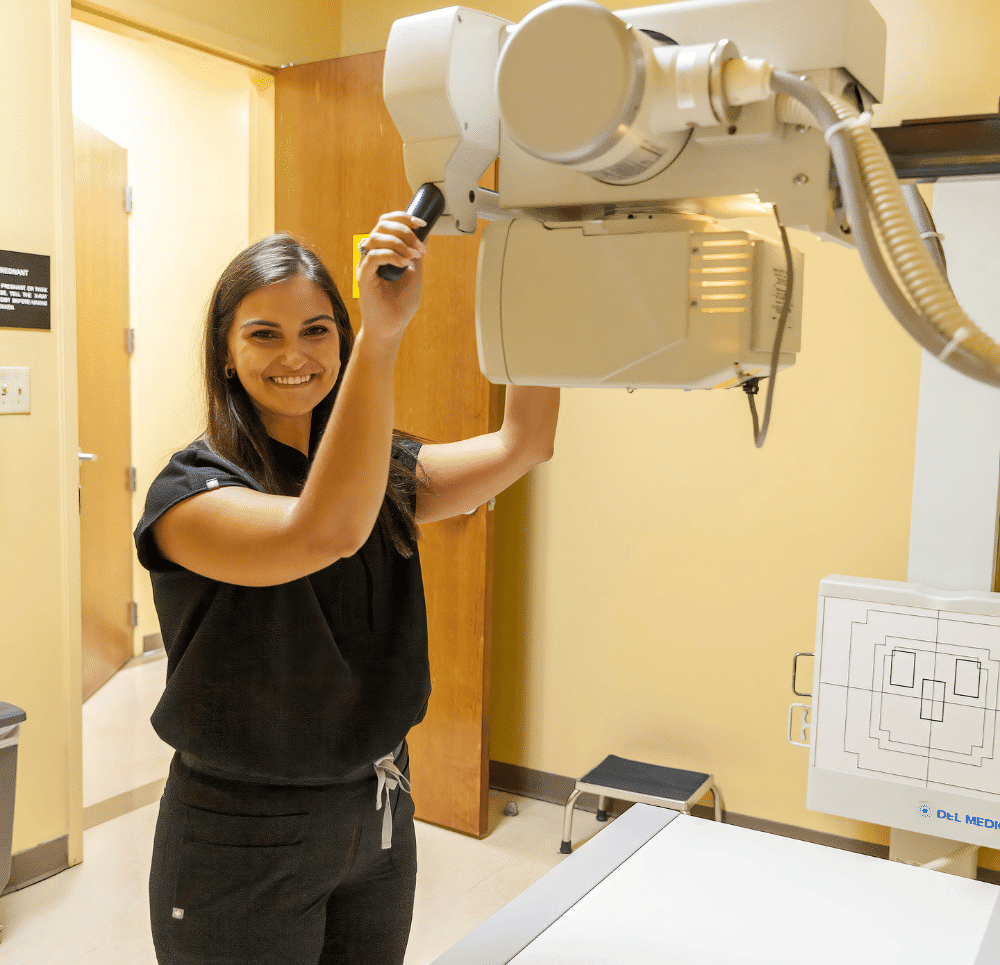 Our Services
There's no reason to go anywhere but Compass Urgent Care for non-life threatening emergencies.
Our state-of-the-art facility, equipped with on-site digital x-ray, EKG, and a modern lab means "one stop" care for you and your family.
Our medical team will make a quick diagnosis and prompt treatment—without the need for multiple visits and follow-up appointments.
We welcome patients of all ages, from babies to adults and offer convenient, efficient, and friendly medical treatment without an appointment.
For urgent care in Alabama you can trust, visit Compass Urgent Care.
Blue Immunization Cards

Cuts that Require Stitches

Burns and Scrapes

Fractures, Strains, Sprains

Animal and Insect Bites

Cough, Sinus Infection, Congestion
Cold and Flu Symptoms

Fever, Rash

Earache, Sore Throat

Toothache

Urinary Tract Infection

Gynecological Conditions, Pregnancy Testing
Back and Neck Pain

Headache, Migraine

Dehydration

Abscess Treatment, Skin Infections

Infections, Gout
On Average
A visit to Compass Urgent Care is 1/3 to 1/7 the cost of the ER! For example, co-pays at an ER are typically $250 or more while Compass Urgent Care averages only $30 to $50 per visit.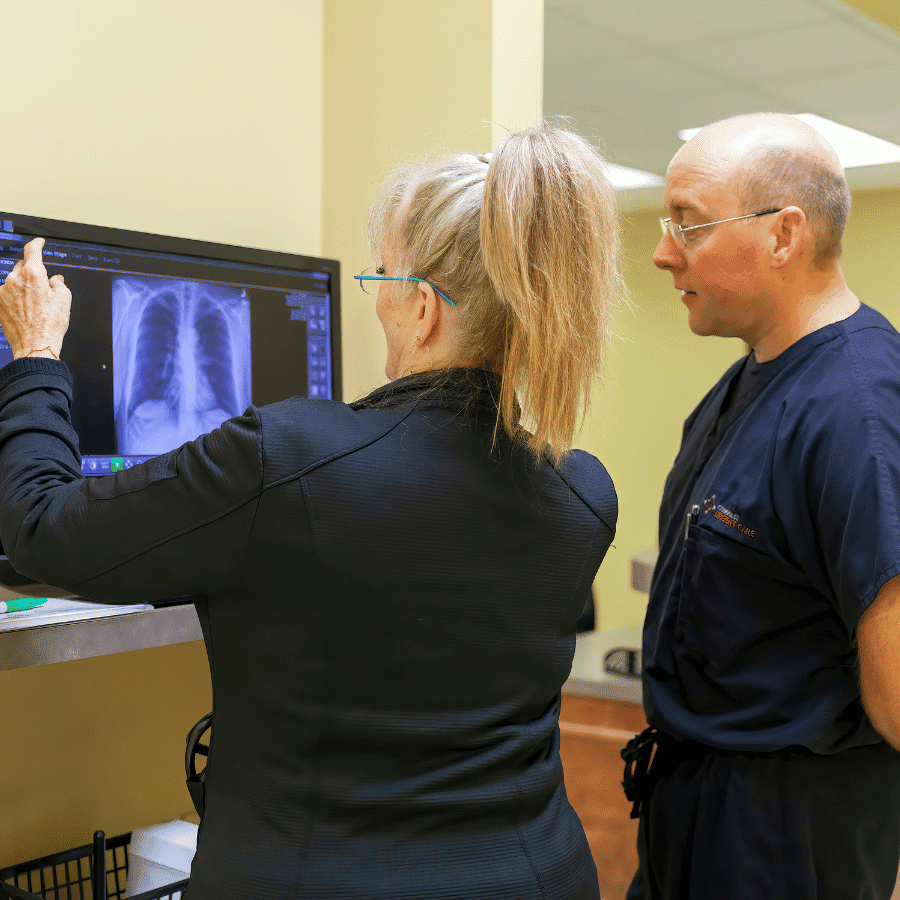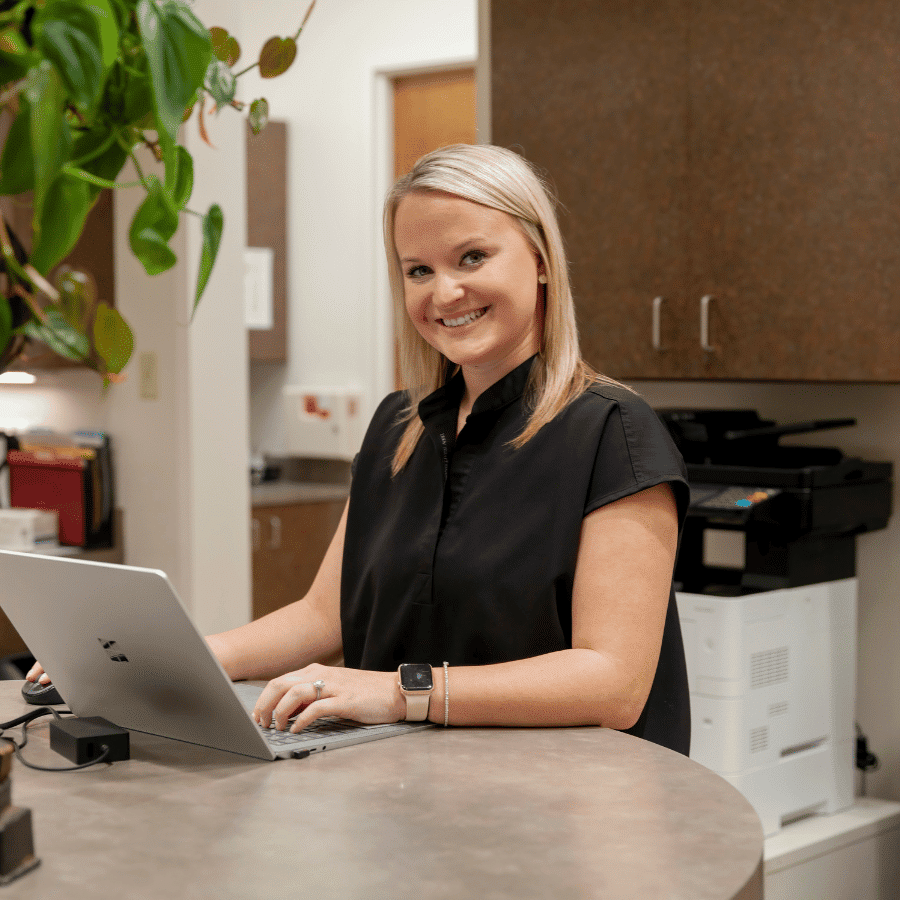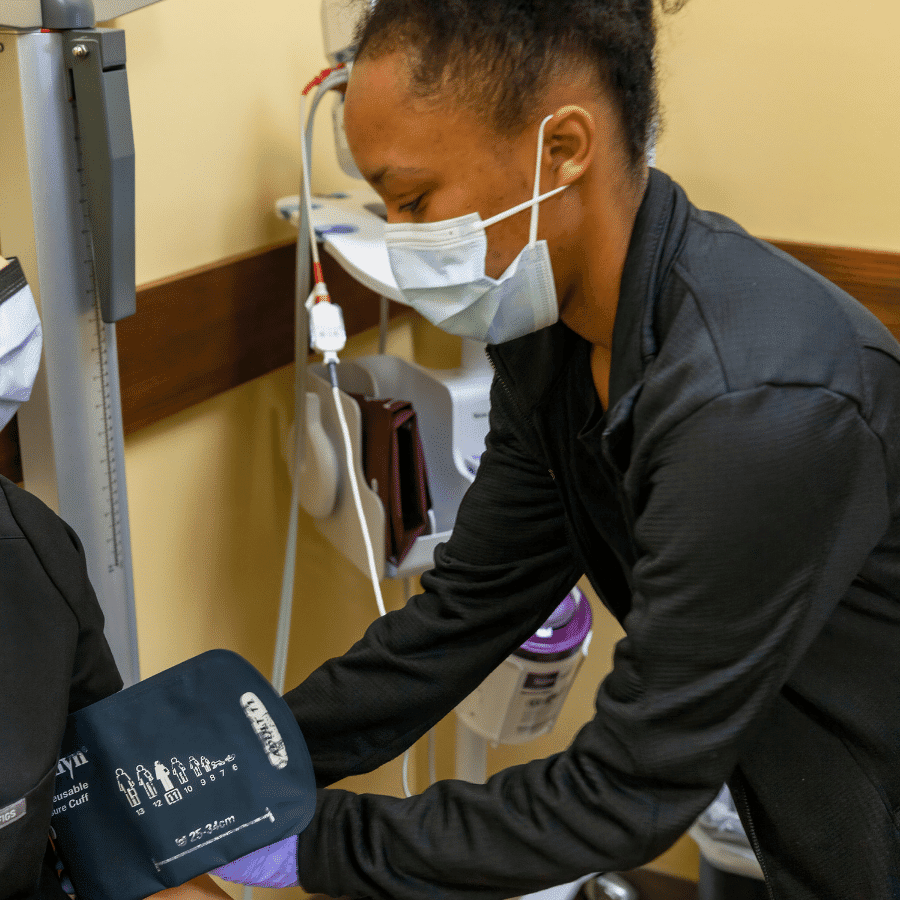 Insurance
We provide immediate care and comprehensive, personalized medical services at a reasonable cost. Compass Urgent Care accepts most health insurance plans, including:
Blue Cross and Blue Shield
Most health plans offer payment coverage for urgent care visits. Please check with your health plan's customer service department to determine your level of coverage.
No insurance? No problem! We also accept cash, personal checks, debit, and credit cards, and offer a flat office visit rate of $150 for cash paying patients.
If you need to discuss your account or make payment arrangements, please contact our office at (251) 633-CARE.
FAQs
Click on a question to see the answer.
What is an Urgent Care Center?
Urgent Care Center physicians treat patients who have an injury or illness that requires immediate attention, but is not usually serious enough to require an emergency room visit.
Why Choose Compass Urgent Care?
In addition to being staffed by a team of expert physicians and medical professionals, Compass Urgent Care offers flexible hours to fit your busy schedule. In addition:
No appointments are needed

Our doctors are board-certified

We offer a large, comfortable waiting area and multiple treatment rooms

We accept most insurance plans

Convenient payment options include cash, check, and credit card
When should I go to an Urgent Care Center?
Urgent Care Centers treat conditions that need immediate attention, but are not life threatening. Urgent Care is ideal when:
You want fast, personal service for minor emergencies

You can't get a timely appointment with your physician

You don't have time to wait in a hospital emergency room

Your regular clinic is closed, or your physician is on vacation
What services are available at Compass Urgent Care?
At Compass Urgent Care, we specialize in the treatment of non life-threatening medical conditions. Our providers treat many types of medical conditions, but typical concerns include: coughs, colds, sinus infections, headaches, broken bones, sprained joints, rashes, back pain, ear infections, abdominal pain, and treatment of cuts and lacerations.
How can I decide if I should go to the Emergency Room or Urgent Care?
If you feel that your condition is life threatening, you should immediately go to a hospital emergency room or call 9-1-1. The ER treats life threatening medical conditions, such as chest pains, severe wounds, or amputations. Victims of rollover automobile accidents should usually be seen in the emergency department.
Does Compass Urgent Care treat children?
Yes. We treat children over the age of three months old.
Who will provide my medical care?
Compass Urgent Care's physicians are board certified. Our staff includes experienced physicians, physician assistants and nurse practitioners. Our office is equipped with a procedure room, diagnostic X-ray equipment, and a blood drawing station with laboratory for your convenience.
How long will I have to wait?
Compass Urgent Care patients are generally treated on a first-come, first-served basis. While every attempt will be made to see you as quickly as possible, wait times may vary based on the number of people seeking care or if a very sick or injured patient arrives and requires immediate attention by the physicians. Compass Urgent Care makes every effort to staff our clinic appropriately to keep wait times to a minimum.
What happens after I leave Urgent Care?
You will be advised about all follow-up procedures and notified about any findings from laboratory work or X-rays. On request, a complete record of your treatment will also be transmitted to your primary care physician who can provide any necessary follow-up care. If you do not have a primary care physician, we will help you find one in the area for follow-up care.
Can I get in-house laboratory tests, EKG and X-ray procedures at Compass Urgent Care?
Yes. Compass Urgent Care has an in-house laboratory, EKG and x-ray equipment on-site for your convenience.
Is Compass Urgent Care open on holidays?
Compass Urgent Care is open 7 days a week with extended hours, but closed on these holidays:
Easter Day
Thanksgiving Day
Christmas Day
New Year's Day
Do I need an appointment?
No, we are a walk-in clinic. No appointment is necessary.
What do I need to bring with me?
When you visit Compass Urgent Care, please be sure to bring:
A form of identification

Your insurance card

A form of payment
Is Urgent Care more affordable than a hospital ER?
Yes. On average, a visit to Compass Urgent Care is 1/3 to 1/7 the cost of the ER! For example, co-pays at an ER are typically $250 or more while Compass Urgent Care averages only $30 to $50 per visit.
What types of insurance do you accept?
We are contracted with most major carriers in our area, including Blue Cross and Blue Shield. We are unable to accept Medicaid. To find out if Compass Urgent Care accepts your insurance plan, call our office at (251) 633-CARE prior to your visit for treatment.
What if I don't have insurance?
We offer a flat office visit rate of $150 for cash paying patients.