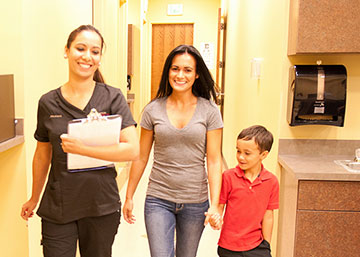 No appointment? No problem. At our walk-in clinic, Mobile, AL residents and visitors can receive prompt, quality care as soon as they need it. With advanced technology, trained staff, and low wait times, Compass Urgent Care provides one-stop treatment for all of you and your family's immediate medical issues. Our priority is to make it quicker and easier to get back to your life.
Accessible Full-Range Care
Our two convenient locations make it easy to take advantage of our nationally certified immediate care facilities. To better accommodate your busy schedule, we offer extended hours seven days a week. Our state-of-the-art facilities include a digital X-ray and EKG, and we treat all ages for a variety of urgent care and other medical needs on a walk in basis.
Our Patients
Whether you are a Mobile native or just passing through, you can count on a quick diagnosis and personalized treatment from our friendly staff. Travelers love that we are the clinic nearest the airport, and our close proximity to the city's largest high school makes us a top choice for a pediatrician or sports physician. We are dedicated to providing all of our patients with hassle-free healthcare when they need it most.
Our Team
With a board-certified team of doctors and physician's assistants based in the local community, we have built our reputation on supporting the area with dedicated and caring service. At our clinic, you receive efficient treatment in a clean, positive environment. A comfortable waiting area and friendly staff minimize the stress of your experience, and streamlined care helps you get results quickly. Avoid the wait and confusion of the Emergency Room or the need to schedule in advance with your doctor.
Helping You
Our on-the-spot medical attention is the perfect solution for unexpected minor emergencies or when your regular physician is out-of-office. Find out just how simple it is to receive quality immediate care at our local walk-in clinic. Mobile, AL is served by two locations of Compass Urgent Care along Airport Road. We are there for your health when you need us, so stop by today to see how we can address your questions or issues-no appointment necessary!

Monday – Friday
8 a.m. to
6:30 p.m.
Saturday – Sunday
8 a.m. to 4 p.m.